Mary Ellyn Hutton
Posted: Feb 10, 2010 - 1:29:02 AM
MusicInCincinnati.com
How far is it from Cincinnati to Tipp City, Ohio?
Sixty miles (97 km) as the crow flies.
For Music in Cincinnati.com (somewhere on the east side of town), it took 66 minutes and two hearings of Witold Lutoslawski's Concerto for Orchestra on the 2005 Telarc CD by Paavo Järvi and the Cincinnati Symphony Orchestra.
This powerful work will be heard on CSO concerts at 8 p.m. Friday and Saturday (Feb. 12 and 13) at Music Hall and Monday evening (Feb. 15) at Carnegie Hall in New York.
Also on the program are Ravel's "Mother Goose" Suite and the Fuga Ricercare from Johann Sebastian Bach's "A Musical Offering," arranged by Anton Webern. (Järvi and the CSO's all-Ravel, Telarc CD, which includes the "Mother Goose" Suite, won a Diapason d'Or award in 2004 from the French classical music magazine Diapason.)
Guest artist in Cincinnati and New York will be Romanian pianist Radu Lupu, who will perform Bartok's Piano Concerto No. 3.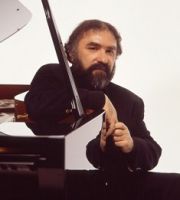 Premiered in 1954 in Warsaw, Lutoslawski's Concerto is paired with Bartok's Concerto for Orchestra on the CSO CD. The two works have many things in common. Both are by composers from Eastern Europe who wrote them during times of turmoil. Bartok was a refugee from Hungary, ill and suffering both economic and professional hardship in a foreign country (the U.S.). Lutoslawski lived in Communist-era Poland where freedoms were restricted, including artistic freedom.
Both are large scale, colorful works that show off all the instruments of the orchestra (as opposed to a concerto for one or two instruments). Both were influenced by the folk music of their respective countries.
Though he stretched the boundaries of Communist "socialist realism," Lutoslawski wrote in a folk-influenced, nationalist vein in his Concerto for Orchestra. His harmonies are complex, but basically tonal. (After the death of Soviet dictator Josef Stalin, he would write in a more experimental, "chance" style inspired by Western avant garde composers like John Cage.)
The work opens with pounding timpani and an aggressive theme which is passed through the orchestra. There are three movements, with the third divided into three parts. The second movement is a light-footed scherzo with a contrasting mid-section for brass. The third movement opens with a Passacaglia, a baroque form made up of variations on a continuously repeating theme. This leads into a Toccata which becomes quite virtuosic ("toccata" means "touch piece" and implies display). The final Corale (chorale) draws from Polish folk music.
Bartok's Third Piano Concerto, written in 1945 as he lay dying, was intended as a birthday gift for his wife Ditta, a pianist. It is written in a gentler and simpler style than his earlier piano concertos. The second movement, marked
Adagio religioso,
suggests the Adagio of Beethoven's String Quartet Op. 132, which Beethoven, having just recovered from a serious illness, inscribed "Thanksgiving to God."
Ravel's "Mother Goose" Suite (Five Nursery Songs from "Mother Goose") was originally a piano duet four hands, written for the children of one of his friends. Ravel orchestrated it and later expanded it into a ballet. It contains some of his most charming and unaffected music, reflective of his childlike nature. The five movements, with characters like Sleeping Beauty, Tom Thumb and Beauty and the Beast, are drawn from Charles Perrault's "Tales of Mother Goose" and other sources.
Tickets are $10-$95, $10 for students ($12 the day of the concert) and 25 percent-off for seniors (62 and over). Call
(513) 381-3300
, or order online at
www.cincinnatisymphony.org
This weekend's CSO concerts in Cincinnati include a "Valentine's Weekend" special, with concert ticket and dinner for $75. The dinners, available both Friday and Saturday beginning at 6:30 p.m. in the Critic's Club at Music Hall, are an extension of the CSO's regular Friday night, pre-concert "Moveable Feasts" catered by chef Jean-Robert de Cavel and students from the Midwest Culinary Institute. For reservations, call
(513) 381-3300
.
There will be a "Classical Conversation" one hour before each concert with Jessica Flores-Garcia, associate curator of contemporary art at the Cincinnati Art Museum. Host is CSO assistant conductor Vince Lee.
For ticket information for the CSO's February 15 concert at Carnegie Hall, call the Carnegie Hall box office at
(212) 247-7800
or visit
http://www.carnegiehall.org/article/box_office/ovr_box_office.html