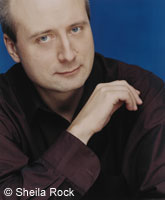 In 2010, the Estonian conductor Paavo Järvi, winner of two Grammy Awards at the age of forty four, will take charge of the Orchestre de Paris (OP), which he conducted for the first time in 2004. "It was a legendary training," he declares. "I grew up with the recordings of Charles Munch [the first director of the OP set up in 1967] and many others. The soloists here are exceptional. But what is important is that everyone in the "tutti" (the whole orchestra) shows personal commitment."

As his contract with the OP envisages a presence of 14 weeks and 28 concerts per season, he recognises that he will have to make choices. On top of a brilliant international career, he conducts the orchestras of Cincinnati (United States), the Frankfurt radio and the Deutsche Kammerphilharmonie of Bremen (Germany), and is adviser to the National Symphony Orchestra of Estonia. He has produced an impressive range of records: Ravel, Berlioz, Prokofiev, Stravinsky, Debussy, Dvorák, Bartók, Shostakovich, Grieg... Born in Estonia into a family of musicians which emigrated to the United States in 1980, Paavo Järvi worked there with Bernstein, who taught him to enter into the work with freedom.
In 2012, the Orchestre de Paris will move to the Philharmonie de Paris, a new complex located in the Parc de la Villette with an auditorium seating 2,400 (by architect Jean Nouvel). "This could re-establish Paris as the musical centre of Europe", says the American-Estonian conductor with hope.
Monica Valby