January 16, 2009
http://www.musicincincinnati.com/site/reviews/J_rvi_CSO_Not_Business_as_Usual.html
Järvi, CSO Not Business as Usual
Mary Ellyn Hutton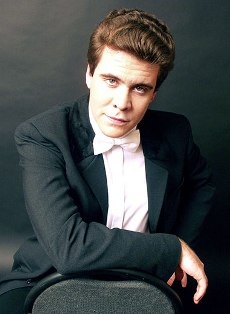 Mahler's First Symphony is an often-heard work, and it would have been easy to expect to hear it as it is often heard Friday morning at Music Hall.  However, nothing is business-as-usual with Paavo Järvi and the Cincinnati Symphony Orchestra.
   Nor was the concert itself, which also featured Tchaikovsky's Piano Concerto No. 2 in a once-in-a-lifetime performance by Russian pianist Dennis Matsuev -- once-in-a-lifetime for CSO audiences, who have not heard it since 1979, and for just about anyone, since it is hard to imagine a better performance, given the team assembled here.
Not to be overlooked among these heavyweights was the U.S. premiere of Estonian composer Erkki-Sven Tüür's "The Path and the Traces" (2005), a 12-minute piece for string orchestra which cast an iridescent light into the New Year.
Matsuev, 33, is a commanding pianist who met the Concerto's bravura demands – two cadenzas in the first movement alone – with volcanic strength.  He drew a huge, cleanly articulated sound from the CSO Steinway (which may need a rest now).  He could be touchingly lyrical, too, as in the first movement's contrasting theme, laced at one point with lovely commentary by flutist Jasmine Choi. 

The second movement features prominent solos for violin and cello, played here by concertmaster Timothy Lees and principal cellist Eric Kim.  Lees filled the gentle opening theme with exquisite beauty, answered in kind by Kim.  Matsuev gave colorful characterization to the more animated second theme, a yearning, typically "Tchaikovskian" melody. He took off in jolly good humor in the finale, where interaction with the CSO was superb and a spicy Hungarian-flavored theme provided tasty contrast.
Tüür, 47, is among the vanguard of composers trying to find a rapprochement between the "cerebral" music that alienated audiences in the mid-20th century and more recent attempts to regain their allegiance.  "The Path and the Traces" was written as a memorial to Tüür's father and to the 70th birthday of Estonian composer Arvo Pärt, who blazed a new path for music in the 1970s and 80s with his "mystical minimalism." Tüür was inspired by a visit to an Orthodox cathedral in Crete and the music he heard there.  (The world premiere, by the way, was in Tartu, Estonia in 2005 by Tõnu Kaljuste and the Tallinn Chamber Orchestra, who performed with the Estonian Philharmonic Chamber Choir at St. Peter in Chains Cathedral in Cincinnati in November.)

 

"Path and Traces" is deeply spiritual, using harmonic overtones as building blocks and evocative string sonorities (sliding between harmonics, etc.).  It began with faint, "icy" sounds, coalescing into an emphatic fundamental tone in the double basses (re-stated throughout, like a center of gravity).  Rapid figures and shifting harmonic textures built to a central climax, after which chant-like figures, beginning in the violas and cellos, made their way through the upper strings to a peaceful, unison ending.

 

Järvi has recorded "The Path and the Traces" with the Estonian National Orchestra along with Tüür's "Magma" featuring percussionist Evelyn Glennie (due here).  Also due in Cincinnati is Tüür's opera "Wallenberg" about Holocaust hero Raoul Wallenberg, a natural for collaboration with Cincinnati Opera (or the University of Cincinnati College-Conservatory of Music, Northern Kentucky University or Kentucky Symphony Orchestra, given requisite support).
To call the CSO's performance of Mahler's First Symphony a virtual biography is no exaggeration.  One could follow the unfolding of a young man's life here almost bar-for-bar, as the players translated Järvi's vision into sound.  His vision was one of deep humanity, with youth stretching into manhood with its intimations of mortality.
There was a primordial innocence in the first movement, where Järvi tempered dynamic levels painstakingly to achieve the utmost transparency.You could almost smell the blossoms of spring.  He prepared the climax carefully, slackening the tempo and letting the orchestra burst into riot of sound, like flowers carpeting a meadow.

 

The second movement, a buoyant Austrian ländler, was full of self confidence and swagger, with a suave contrasting theme that was broadened liberally and given a big dose of schmaltz.  Järvi lingered over it, making the return of the opening theme that much more robust by contrast.

 

Principal bassist Owen Lee sounded the morose 

"Frere Jacques"

 funeral march that opens the third movement.  The mood turned inebriated as the oboes sounded a klezmerish theme, bent ever so drunkenly into a kind of "let's dance if we can hold each other up."  Things got tearier and blearier as it went on (a cell phone in the audience broke the spell a bit).  A gentle, nostalgic mood crept in toward the end, turning bleak, however with the relentless return of the funeral march.  There was a brilliant segue at the end where chords softly colored by cymbal were followed by the triple-forte cymbal crash that opens the final movement. There was a feeling of wrestling an enemy to the ground here, as the CSO plunged into the fray.  However, there was time for a ravishing love song, capped by principal hornist Elizabeth Freimuth's gorgeous solo.  The fanfare that signals the triumph of hope began tentatively, with a sudden adrenalin-like rush to the climax.  Like scenes of youth flashing by, material from the earlier movements returned, often wrapped in gentle, drawn-out phrases.  The love song surged again, as if with knowledge it was the last time, cut short by rude interjections in the clarinet and violas. The final bars were a march to glory, as the horns stood to send Mahler's message of hope into every crevice of Music Hall.
Repeat is 8 p.m. Saturday (January 17) and 3 p.m. Sunday (January 18) at Music Hall.