Music in Cincinnati
Mary Ellyn Hutton
Posted: Jul 27, 2013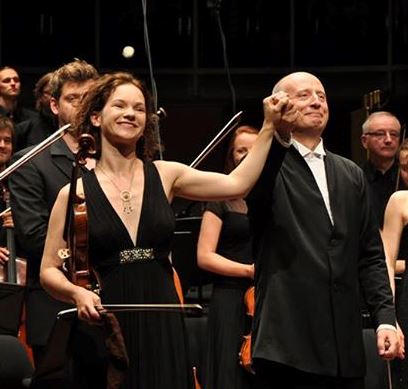 Hilary Hahn and Paavo Järvia
Violinist Hilary Hahn's debut at the Pärnu Music Festival in Pärnu, Estonia July 21 at the Concert Hall in Pärnu was marked by consummate musicality and arresting virtuosity.
Her calling card was the Violin Concerto No. 4 by Belgian composer Henri Vieuxtemps. Also on the program, which was led by festival artistic adviser Paavo Järvi conducting the Pärnu Festival Orchestra, was the world premiere of Estonian composer Ülo Krigul's "Chordae" and the Symphonies No. 33 and 35 ("Haffner") by Mozart.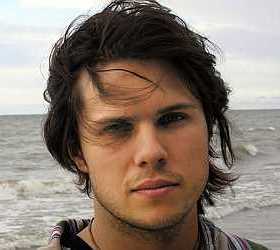 Ülo Krigul
A festival commission, Krigul's eight-minute "Chordae" made a powerful impression. Based on chords that multiply, break down, form rhythms, melodies and more harmonies, it opened with a virtual assault by timpani, bass drum and full orchestra. The effect was of things peeling off and recombining: a flute solo with syncopated winds and percussion, a sea of chords that built up sequentially. Following a passage for pizzicato strings and wailing winds, there was another huge crash followed by sustained notes and a final stroke of chimes before fading away. The performance, for which Krigul came to the stage to acknowledge the applause, received an enthusiastic ovation.
Vieuxtemps' Violin Concerto No. 4 (1851), one of seven and allegedly the composer's favorite, was a sensation in Hahn's nimble hands (a recording is in the works). Conceived in symphonic style with four movements, it began with an extended orchestral introduction followed by a dramatic exposition and a cadenza that simply dazzled. The Adagio religioso that followed was exquisitely beautiful, enhanced by entrancing passages for solo violin and harp. The Scherzo was mercurial and frisky – including some daunting fingered harmonics -- followed by a folk-like Trio. Hahn played with stunning agility in the Finale marziale, which followed a brassy orchestral introduction. All of the violinists' resources are called for here and Hahn delivered abundantly to the blazing con brio conclusion.
Responding to a cheering, foot-stomping, standing ovation, Hahn performed two encores, both from the Partita No. 3 in E Major for Solo Violin by J.S. Bach.
Järvi rounded out the program with a generous serving of Mozart, the Symphonies No. 33 and 35 ("Haffner"). No. 33 was marked by grace and geniality (an anticipation of the theme from the finale of his Symphony No. 41 appears in the first movement). The merry Allegro finale was capped by a downward arpeggio and a little shrug directed toward the audience by Järvi.
Järvi pulled out all the stops in the "Haffner" Symphony, favoring brisk tempos and high spirits. The Andante second movement was svelte and smooth. The Menuetto positively bubbled, with a lovely Trio. The orchestra played their hearts out for him -- and no doubt their lips and fingers -- in the Presto finale, taken at a ferociously fast tempo and a real toe-tapper. Following another noisy standing ovation, the orchestra players awarded Järvi a solo bow.
http://www.musicincincinnati.com/site/reviews/Hilary_Hahn_Dazzles_in_Estonian_Debut.html